Google Images' new layout - how this impacts photographers and webmasters




posted on 4th of february, 2013
Let me preface this blog post by saying that Google has been a very important Internet player, and that the Internet wouldn't be the same without their efforts and innovations. With that said, I would like to share information with you regarding a recently released update to Google's image search functionality that is very troubling in that it materially changes the way Google image searchers respond to images that they locate.
Until a few days ago, a visitor to Google Images would see a thumbnail of the image in search results laid over the site where the original image was displayed. The website could be any site: an agency selling or displaying photographers' images, a personal website or a business that licensed images and paid a fee for them. The old Google search result presentation encouraged the surfer, to a certain degree, to visit the website where the image appeared, as the website was partially visible in the background of the located image. Critics might say that the old Google search methodology was not sufficient to protect the rights holder, as the image was always made available for download (with a "Full-size" link even provided). This criticism is at least partially correct, since our latest findings show only 25% of Google Image searchers actually went to the website that had the subject image (this doesn't mean that the other 75% downloaded the image but many probably did). Of course, a direct link from the thumbnail in the search result to the hosting website under the image appearing in Google's search results would definitely have been preferable to ensure that people did not download the image directly from Google.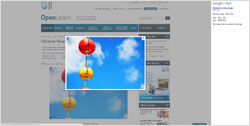 However, Google's latest changes to their image search engine have made the situation much worse than the previous methodology from an intellectual property protection standpoint. Google's full announcement of the rollout is available at:
Faster Image Search article
. As you can see, under the new search result format, Google now presents the user with an "in-place" preview of any selected image on the search results page, displaying only a gray box behind the image, rather than a partial view of the site where the image originally appeared. The larger previews provided when users click on the thumbnails are enhanced and more appealing than the low-res thumbnails that were previously the only thing appearing on Google's search results. This updated functionality completely removes the source website from the display, encouraging the user to download the image directly from the search results. To add fuel to the fire, a prominent button "Show original image" (read as "Download now") is also being displayed alongside the enhanced preview. The percentage of visits to the website that actually has the rights to display and offer the subject images drops at a staggering rate as people are able to and, in fact, are implicitly encouraged to begin downloading the image directly from Google Images rather than visiting the subject site.
What are the implications?
Of course, photographers won't be paid a royalty for the use of their protected images. Images are now more likely to be taken out of context (they may be on a website that sells furniture, for example, and could be licensed images or photos taken by the site owner). Just because Google has found and republished an image doesn't mean that the image can be used by anyone for any purpose. Moreover, a Google label such as "image may be subject to copyright" is not enough. Google should not be able to offer its users the opportunity to grab content for free to such an extent, and then immunize and justify its actions by relying on the "fine print" legal disclaimers.
This new search result layout not only affects photographers and agencies (licensors), but also websites and webmasters (licensees and/or SEO). This new search result layout has and will continue to drastically diminish traffic to the website who published the image. For example, let's say I use a photo of healthy fruits in my blog article because someone looking for a healthy diet will see the image on Google and reach my blog this way. This is what visual search stands for. With the new Google image search facility, finding my healthy fruit image in response to a search query would not lead a user to my blog article. The website is victimized further because, since the image is hotlinked directly from the original website's servers, the webmaster's bandwidth is used when Google displays the image without displaying his or her website to the user who is searching for the image.
Google's phrase "Google Images lets you find images posted on the Internet" doesn't tell the whole story. Before Google's recent change, Google's phrase could have more accurately been described as: "Google's Images lets you find images posted on the Internet so that you can visit the website hosting such images." After the latest Google change, the phrase could more accurately read: "Google's Images lets you find images posted on the Internet and to download such images without ever going to the website that offered the image to the Internet community." Even prior to this latest change in Google's search results, the download rate directly from Google image search results was mind blowing. It was many times above stock photography industry limits. Stats in 2010 show 1 billion pageviews daily! (
Google Image Search
) We have found instances of all kinds – from famous companies to simple individuals – involving unlicensed uses of images taken from Google search results, in commercial contexts. When challenged about the copyright infringement, too many times we've heard the response that the image was "found on the Internet." There is no reason for the original image to be made available in this or any search result layout. Aside from encouraging theft, it is hard to imagine what the purpose would be. In many cases, the user download of the offered image will not be a malicious copyright infringement by the user, but giving tools to people who don't know that images are not free to use provides the same end benefit to users (and harm to the rights holders), no matter what the users (or Google for that matter) intended. Once again, Google Images should let you "find" images, not "find and download" them. Downloading will always involve the risk of accidental unlicensed use in the best-case scenario, or willful copyright infringement in the worst.
What can be done?
We're trying to address this with Google and our industry's trade associations. In the meantime, you're invited and encouraged to voice your opinions by commenting on Google's blog post about the rollout (
Link here and here
) and informing Google of your opinion. No matter how personal this is to you, please be polite and respectful. You can also tell your friends and colleagues about it and, just as before, do your best to educate people that simply downloading images found on the Internet is not always a safe option.
Remember that change is inevitable, and we all need to embrace change while at the same time seek to influence such change in a positive and fair direction. Let's not forget what happened to the music industry, to the print industry, and to many others who didn't embrace and seek to mold change fast enough. The Internet needs to be a place for thoughtful evolution, so we welcome any ideas and suggestions about how Google's new image search can work to everyone's advantage. Rather than tell us you hate this change, tell us what you would do to improve the user experience while making sure everyone's rights (photographers or webmasters) are also respected.
Again, this blog is not intended to criticize Google merely for the sake of doing so. Google's pioneer efforts have helped shaped the way the world communicates and functions. At the risks of appearing unrealistic, we can – and have an obligation to – help shape the ever-involving Internet, but we need to do so with positive and constructive suggestions. As the cliché goes, "if we are not part of the solution, we are part of the problem."
Comments (63)
It would be already better if instead of writing a little "Images may be subject to copyright." at the bottom of the black frame, Google could write a bigger "THIS IMAGE IS SUBJECT TO COPYRIGHT" getting the info from the EXIF data... (even more important for pictures without swirls used legally on a website...) And wouldn't it be nice to display a "Buy this picture" button right on the Google page, if they found in the EXIF that this picture is originally from a stock photo website? I think it is not impossible... even more if Google gets some percentage on the sale from the website, as referrers do ;)

Nothing really changed from what it was before. I addressed the same issue in other DT member's blogs when I encountered in te past year. The thing is, the agencies are making things easy for Google to index these images and then serve them on full size to the others. Google's indexing process is automated, so why don't you (agencies) make it more difficult for Google Images to index correctly these images in the first place? Just get rid of the IPTC data in ALL the downloaded images and change the name of the downloaded file for every purchase. You figure it out other ways as well. I'm a software developer, and this seems like a neccessary first step until Google will eventually listen to your copyright infringement demands. Google Image service is clearly created for people who want to search for images and use them in a way or another, so, as long as the images are correctly indexed, they will be easily found and used by (almost) everybody on this planet.

uhm....class action againsst google?

Comment by

Celiaak

on February 06, 2013

Thank you for pointing this out. In fact, we now need to click twice to go to thw original website, and the image sowing in the google image page is located on the owners server. I'll put an word also.

DT simply must as the agency representative of the photographer put up a full black bold download now for purchase copyright instead of the watermark swirl thats barely noticable and by the way can be removed with software. DT has by far the most misuse, in relation to other agencies who have more obvious watermarks. Many users dont bother,they download the image with the DT swirl on it and use it blatantly, they know what we are now discovering,that the agency isnt going to do a thing about these thefts, its a loss they are prepared to live with.

Comment by

Klsbear

on February 05, 2013

@Libbyelliott, Google is deliberately misleading users with their comment that "images 'may' be subject to copyright." The truth is they ARE ALL subject to copyright. Too many web surfers think if it's on the web it's OK to use, or if there is not a visible copyright symbol it's free and Google encourages this with misleading statements like this on their search, on Google Drive document image search and likely many other places. Google shows no respect for copyright or the creators of the images. What is the need or use of "find other sizes" if they aren't trying to make it easy for people to grab free pictures in a size that suits their need? Yes, those that steal images are responsible for their actions but Google bears some responsiblitiy for facilitating the taking of the merchandise. One thing they could easily do and should do is change their statement to read "All images are subject to copyright and may NOT be freely used in blogs (whether for personal or commercial use) advertising, promotional use, in business documents, print-on-demand, resale or other commercial or personal ventures without direct permission or purchased license. Contact the creator or creator's distributor or agent for licensing or permission for use."

Comment by

Meryll

on February 05, 2013

Feeling like Google was giving my pictures for free now....

Comment by

Dpikros

on February 05, 2013

Thanks for the info, I'll leave some (polite) comments directly at google. Certainly, things are going fast forward, but at some final point there will be no new content if everybody takes everything for free - think about it...

@Digitalexpressionimages

You and I both know that your analogy is slightly skewed. Google isn't unlocking the "front door" to your image library for internet users to freely download what ever image they please from the internet. They are a search engine that finds content. A users ability to rip off your image from the web was there prior to the update to Google's website. It might have take an extra step or two, but it was still there.

It's easy to point fingers at Google and blame them for your photos being stolen from the internet. On the other hand though, you have to consider that there are probably more people that found your images via Google and downloaded them legally than you think.

I do see both sides of this debate. I just feel the people that are stealing are the ones that need to be held accountable and not Google.

Thanks for this - quite worrying really. I used the search to locate one of my images, then clicked on "image details" & found a list of where that image is being used illegally as still have watermarks (I know you could do this before, but this is way easier to find those pesky rascals) ......will certainly comment using your Google link in the blog above. Thanks for being pro-active.

@ libbyelliot

Does that mean that if I come to your home while you are on vacation, unlock your door and hold it open to facilitate thieves, that have no relation to me whatsoever, to come into your home and steal your belongings, I wouldn't be blamed at all?

If so then just give me your address. I'll call myself Google and I won't steal anything myself, I'll just hold the door.

Comment by

Perstock

on February 05, 2013

Thank you Serban! Important issue!

Comment by

Alvera

on February 05, 2013

Libbyelliott, easily accessible, 24 hr., dirt cheap fast food restaurants ARE responsible for making people obese. Because the food is cheap and dirty. Now google offer FREE photos for all. So easy to become a thief from a buyer.

Comment by

Jsnover

on February 04, 2013

I'm glad to see Dreamstime is weighing in on this issue. I just posted a comment on their blog post. In essence, I said that I love the look of their new image search, but that they aren't honoring the content owner's copyrights; in time, there won't be any content to index and search if the creator's copyrights are bypassed. Please keep us updated if you get a response.

Regarding the notion that the responsibility lies with the end user, I think that when you gloss over the copyright issues and lay all the information out as if it were just there for the taking, you are deliberately misleading the bulk of searchers. Google makes money from these actions and they bear the lion's share of the burden for the infractions that occur.

Comment by

Dmccale

on February 04, 2013

thanks so much for working on this. Peace

Comment by

Lisafx

on February 04, 2013

Thanks very much, Achilles, for bringing this situation to light, and for working to make it fairer to copyright holders and the agencies that represent them/us. I have commented on the google announcement site. I fully support your efforts!

Your view is very insightful, but I would have to disagree that any kind of blame falls on Google. In my opinion Google is the best search engine being used today. Their service is superior and truly transcends the way we can find content via the world wide web. I don't believe it is right to criticize Google when Google isn't the user downloading and using copyrighted images from the internet. It's like blaming easily accessible, 24 hr., dirt cheap fast food restaurants for making people obese. People are the ones that choose to eat a greasy hamburger 5 nights a week, McDonald's doesn't make them. Just like it's the end user that decides they are going to rip a photo off the internet. I don't know how you stop that from happening, but I don't think the blame for that should fall on Google.

Comment by

Teabum

on February 04, 2013

Thank you for sharing Serban,
To "view original image" is disturbing feature and also the text of image "may be a subject to copyright" is misleading.... every image has its creator and hence it means, there is someone with rights to every image and so the copyright is there! It might be offered as a free image, but most likely not without the agreement from the image owner.

What is even more disturbing with the new image search is the way it returns high res search results. Go to Google image search, type in "dreamstime", then sort for large images. High res (upwards of 16mp) images are listed, no watermark.

This is because many people do not rename downloaded images when they post purchased files to their websites. The DT naming convention includes the agency name so searching for it returns all images on the web with that name. They need to change that as well.

First, thanks for pursuing this, it effects everyone.

The image search on Google is, I believe, primarily used by those looking specifically for images. Your example of the healthy fruit image in a blog article is misleading as I doubt many people searching in the image search are looking for blog articles to read. They are looking for images. That makes it all the more important to re-enforce the message that Google images are NOT free for use. Google's tiny disclaimer that copyright MAY apply is a farce and does nothing to prevent theft. In fact I believe Google is facilitating copyright infringement and is as guilty of that as the downloader. Is it possible to use the IPTC/EXIF data in the image? Encourage Google to build into their image search engine the ability to read and display the EXIF data so viewers are more aware of image ownership. That would at least help.

Wow.. do not evil Google.. do no evil.

Thanks for sharing

Comment by

Frui

on February 04, 2013

The simplest solution that comes to mind is to broaden functionallity of Image details' button. At the moment all photos purchased here on Dreamstime contain in properties of file, information about the author and image agency so Google should treat us (photographers, illustrators) fair showing this information firstly. The best solution will be agreement between stock agencies and Google so if search engine shows image from agency then in priority should be shown author and copyright attention more prominent.

Comment by

Zenpix

on February 04, 2013

the gov used to prevent a company from becoming a huge monopoly, able to dictate price, service, quality.... what happened? now the best way is to become huge and bully everyone around. for example google, walmart, facebook, g etty, microsoft. The only solution with a co. like this is to walk away, dont use them, if that is possible. in this situation start using, bing as a search engin.
we individually have no power.
togethere WE can becom the huge behemith and dictate to these co's that we will not take it anylonger.

Comment by

Alvera

on February 04, 2013

Good work big chief! Posted on my blog too: Google image search and copyright infringement

Comment by

Egomezta

on February 04, 2013

Thanks for sharing this, I didn't about it...

Google used to be pretty cool, but they have become the Evil Empire, stealing without regard.

Great blog! Thank you for addressing and explaining this!

Comment by

Physi28

on February 04, 2013

thanks so much Serban as you are working for the benefit of all of us, I hope the guys at Google will be reasonable and a solution be found which allows us all to coexist.

Nice blog Serban, I will write down my opinion in Google about it.

Pages: < 1

2

3 >



Comments (63)
This article has been read 56069 times. 21 readers have found this article useful.
Photo credits: Adrian Baciu.