The most extreme airport in the world - Lukla Airport




posted on 13th of february, 2016
The most extreme airport in the world - Lukla Airport in Himalayas, Nepal.

Climbers who intend to climb Mount Everest or visit Everest Region awaits extremely demanding ascent to the summit, but also landing at Lukla Airport.

 




 Lukla Airport is among the most extreme and most dangerous airport in the world.The airport was named in 2008 in memory of Hillary and Tenzing. Several airlines operate daily flights from Kathmandu to Lukla and back.
The runway is located on a high rocky promontory, it is surrounded by high mountains and is only 527 meters long. Pilots must find the optimum height for the landing and should not fly too low to avoid crashing into the rock face.

 





and ... What is most important for flights to Everest Region? Good weather, enough visibility without fog, heavy rain or wind.

What do you think ? Should you afraid of it ? No fear ! Nepalese pilots are experienced and safely transports you into the mountains.

 






I visited the Himalayas three times. At the first visit the weather changed very quickly and we had to wait long four days in Lukla village. No flight from Kathmandu, no flight from Lukla. Some tourists were going crazy, others were calm. The journey from the mountains on foot would have lasted five days and one day extra bus. So .... we waited.
I would advise those of you who are planning a trip to the Himalayas and Lukla, be ready for it.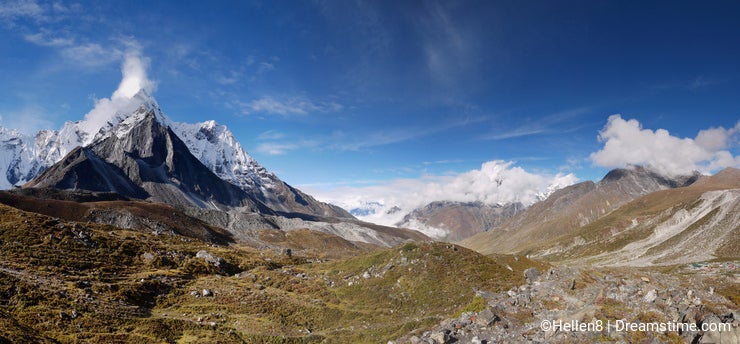 I love the mountains.
Who once visited the Himalayas will want to return there. Staying in these mountains gives to human more than just look at the amazing mountain ranges. This trek to the highest mountains of the world, compels to think deeply over himself, over the meaning of life in today's hectic times and desire for money and property. After all, we need few things to life ...

 




Here is my new collection of photos from Himalayas: Himalayas


 







Have a nice day everyone !





Comments (37)
Posted by

Hellen8

on February 24, 2016

Bad news from Nepal today.
The Twin Otter aircraft, operated by Tara Air, was travelling from Pokhara to Jomsom, ... crashed. The control tower shortly after taking off lost contact with this aircraft.
The weather was favourable for the 20-minute flight, but no one knows why did it happen.
Airport in Jomsom is one of the most dangerous in the world. It lies at an altitude of 2,682 meters above sea level and has a single asphalt runway.
To: Williamsphere
Thanks Linda for your comment. Very nice images in your portfolio.
Have a nice day !
To: Cheese365
Hi Julie ! Thank you for visiting and comment. Good luck !

I like the scale of these images. Amazing scenery and colorful region. Nicely done!

Great pictures and very informative - thank you :)

To: Adammeadows12
Welcome to my blog ! Thanks for comment.
Have a nice day !

wow! nice location for pictures! great job

Hi Lenuta ! Thanks for visiting and comment. Good luck on DT !

Beautiful images! Thank you for sharing Helena!

To: Mani33
Thank you for comment. A love travel blogs too.
Have a nice day !

Posted by

Mani33

on February 17, 2016

I love travel blogs, thanks for sharing such a beautiful destination & photos.

To: Pichardopinto
Thank for comment. You can visit my portfolio :-)

hermoso ¿tendreis algo de la montaña materhorn thun ginebra,interlaken,berna ymontreaux?

To: Hel080808
Many greetings to you ! Thanks for comment. Yes, I ´m back. I look forward to the next expedition. :-)
To: Shootalot
Thank you for a nice comment. Good luck !
To: Philcold
Thanks for visiting and comment :-)
Hi Hellen,
I see you're back with a lot of beautiful images. Congrats!
To: Paparazzofamily
Thanks for your comment :-)

Wonderful photos of a difficult to reach place. Mountains look spectacular.

To: Cdmannwriter
Thanks for the feedback on my article. Himalayas are beautiful and dangerous. Especially in recent years during the earthquake. I was there at that time also it was in 2011. ... We were going to sleep and suddenly we heard a strong rumble as if a train was coming. We were able to run out of the lodge and wait in the dark until it ends.
Have a nice day !

Nice trip and nice photos which deserve to have great sales. Congrats!!

Awesome place!

I flew into and out of that airport when it was just a cow pasture (no paved runway), and they had to herd the animals off the runway so a plane could take off or land. I was young and stupid then, but it was a wonderful adventure to go hiking in those mountains.

Posted by

Hellen8

on February 15, 2016

To: Wxh6763
Thanks for comment. Many greetings to China!

Posted by

Wxh6763

on February 15, 2016

Yes I know there which is the most extreme airport in the world. Beautiful!

To: Fitr
Thanks for visiting and comment:-)

Posted by

Fitr

on February 14, 2016

That was a great read with very nice photos.
Thanks for sharing!
To:Perstock
Thank you for comment and tip for travel expeditions :-)
Exciting!
Vestmannaoyar in Iceland is also on my list, and of course El Alto in La Paz...
To: Picstudio
Thanks for visiting and comment :-)

Pages:

1

2 >



Comments (37)
This article has been read 2307 times. 2 readers have found this article useful.
Photo credits: Helena Bilková.