Castles in Bohemia




posted on 2nd of april, 2016
Castles in Bohemia
This blog is for lovers of architecture and traveling.
I´d like to introduce you some of the most beautiful castles in Bohemia, National Cultural Monuments of the Czech Republic.


Prague - Troja Palace - Bohemia
Troja Palace is one of the most beautiful baroque monuments located in the capital, Prague. Czech Republic.
The Palace is closed to 30 April 2016.

 





Hluboka Castle - Bohemia
State Castle Hluboka is one of the most beautiful fairytale castles in Europe.
This famous castle was rebuilt in Windsor style, surrounded by a huge English park.

 





Cervena Lhota Castle - Red Chateau - Bohemia
Czech republic is full of castles but this one is the only red castle. Lovely Red Castle on small island surrounded by water is accessible over the stone bridge connecting the island and embankment.

 





Karlstejn Castle - Bohemia
The impressive medieval Karlstejn Castle holds an absolutely exceptional position among Czech castles. It was established by the Czech king and Roman emperor Charles IV as a place to store the royal treasures, collections of holy relics and the crown jewels.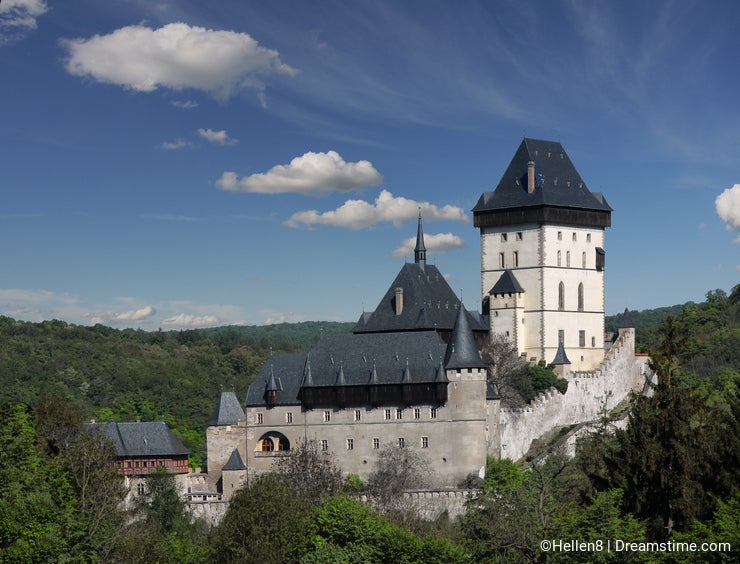 Zinkovy Castle - Bohemia
Zinkovy Castle is a popular fairytale castle in West Bohemia. A large Pseudo-romantic multiple style castle on the bank of Labut pond (labut means swan) was redeveloped of the former water fortress.

 






More castles you can find in my portfolio.

Have a nice weekend !

Hellen

Comments (18)
Posted by

Hellen8

on April 06, 2016

To: Data2203
Thank you for your visit and nice comment -)

Very impressive images! I like medieval architecture. Wish you more sales and best pictures in future!

To: FabioCencetta
Thank you Concetta for comment :-)
Have a nice day !
To: Picstudio
Thank you for visiting and comment. Good luck !

Amazing images!!!

To: Perstock
Thank you for comment ! :-)
Have a nice day !

Beautiful pics!

To: Bluchiavari
Thank you Luca for nice comment. Your last images are beautiful :-)
Great images Helena!
Like to go there :-)
To: Osmar01
Thanks Patrizio for comment. :-)
To: Leesniderphotoimages
Thanks for your visit and comment. Lee, next time ... Bohemia !
Have a nice day !

Posted by

Osmar01

on April 04, 2016

Great idea for a collection and beautiful photographs.

Hello Helen,

Absolutely love photos. I have been photographing European castles for
decades but knew nothing about those in Bohemia. Thank you for sharing
your stunning images. LEE

Nice photos, congratulations! I will be there in july...

Posted by

Hellen8

on April 03, 2016

To: Deming9120
Thanks Deming. I'm glad you like the photos. :-)
Amazing shots and great portfolio!!!!
Keep up the great work!!!

Posted by

Hellen8

on April 03, 2016

To: Pettys
Thank you for comment.
Have a nice day ! :-)

Posted by

Pettys

on April 03, 2016

Fantastic castles and photos...!!!! :-)
Comments (18)
This article has been read 1648 times. 2 readers have found this article useful.
Photo credits: Helena Bilková.