The story behind the most downloaded image on Dreamstime




posted on 17th of may, 2017
A trip down memory lane
2007. Seven year had passed since Dreamstime's take off. More and more photographers would join, building up the most wonderful community of stock photographers around the world.
February 8th, 2007. We don't know whether it was sunny, rainy, or just an average day when one of our contributors, Kelliem, decided to share with us an image of a newlywed couple kissing on a beach.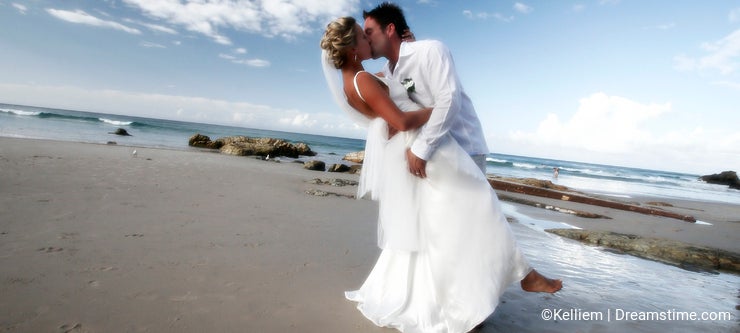 Short story: Bride. Groom. Kiss. Beach. Clouds. Sand. Sea. The White Dress. And looove. The image would breath so much romance, sensuality, happiness, chemistry and magic. In one word: emotion.

Through the years, this image has become the most downloaded image on Dreamstime. It still is. It has 1336 downloads as we speak. So we sent Kelliem an email hoping to hear back. She was happy to help us with some answers. Hope you'll enjoy them:

- What can you tell us about the story behind this image?
When I took this photo my intention was to show feelings of love and romance.
In a snap decision I asked the groom to lean the bride back and kiss her. I just think with the help of a perfect day, location, late afternoon lighting and angling the frame just slightly, it all happened naturally and they way intended.

- What made you choose a filter for your image knowing that we usually prefer images in their natural state without too many added frills?
I chose this filter to soften the photo, to essentially create the feeling of romance. I think for memory it was defused glow, reducing and illegitimating the amount in a lot of areas.

- You've started your stock portfolio when microstock was just incipient. How do you perceive it has changed since the beginning?
It's opened a lot more avenues, it was only photos when I started.
But progress is good. I have been quiet on the stock scene for a few years now, raising my family has taken first priority over my love of photography, I'm looking forward to coming back and taking on some challenges.

- If you could travel back in time, what advice would you give to yourself, the young photographer just starting out?
1. Learn as much as you can about your camera and equipment, especially manual mode.
2. Always back up your photos.
3. Shoot in raw and convert to jpg - this allows for simple tweaking and won't destroy the original image.
4. Be patient - you'll have images rejected. Use this as a tool to improve.
5. Plan ahead. I always imagine days in advance how I want a photo to turn out, I suppose like an artist, visualizes what they're going to draw or paint. By doing this I'm never disappointed.
I never pursued photography on a full time basis, I didn't want it to become a job and loose the love for it, so step back away from your camera for awhile if you're struggling. Feelings create images!




Comments (22)
Thank you for advice

great work

Awesome and inspiring. I do have a lot to achieve yet. But awesome work by you

A great photo, and a great blog. I have some catching up to do!

cool photo! :)

Nice and useful tips

nice click n nice thought

I get a blank screen with the text that says "Unknown Error." I get this with a lot of blogs. Internet Explorer, Firefox, and on my Android.

Great, thanks for sharing.

Great picture and love the advice!

The tilt of the frame and the couple work so well together!

You captured the LOVE. Brilliant picture, pure and simple, that always works for me.

Beatiful pic. Thank you for the advices.

Gmargittai, You're probably right. Oh wait, could it be that the girl has a tan? Or that maybe she's a brown girl? I bet those 1336 people who downloaded the photo and paid for it really feel foolish for not checking with you first.

Visionimaging, please email us a screenshot with the error. Thanks.

There is an object in the right hand side background of the photo close to the beach and water. Just wondering what is it?

A great photo, simple idea. Good capture of the movement. Unfortunately if submitted today it wouldn't get that many downloads. Also a bit of post processing might help. The exposure was done on the white dress which came out OK but her arms and especially her face are left in the dark. Maybe that is intentional.
A great photo nevertheless.

Very beautiful photo & some really great advice for both the pro & novice alike.

Excellent photo, but with pictures like this I always wonder if it's enhanced or just shot like that. I love making photos, but I was never a fan of enhancing them myself. So I wonder if I should.

All great advice thank you!

Unfortunately, I can't view the blog. I get an error message.

Useful tips, great image :)
Comments (22)
This article has been read 6067 times. 17 readers have found this article useful.
Photo credits: Kelliem.